Transgender Catholic Initially Rejected as Godparent Now Welcomed–And Other Positive Developments
A trans* man in Spain will now be allowed to be his nephew's godparent, reversing the bishop's earlier decision to reject the man based on his gender identity. This change is good news and teaches an important lesson about how leaders can listen and learn, as the church journeys forward towards greater transgender inclusion. [Editor's note:  "Trans*" is an increasingly preferred term to describe people whose gender identities fall outside of traditional categories of male or female.]
Bishop Rafael Zornoza of Cadiz and Ceuta changed his mind about Alex Salinas' request, reported PinkNews.  Zornoza received intense criticism including a Change.org petition that collected more than 35,000 signatures. Salinas, who described the initlal rejection as a "kick in the stomach," told reporters:
"I am very happy because of what this means for me, but above all, because what is good for me is good for other transsexuals who are Catholic and want to be part of the Church."
Salinas is among a growing number of openly trans* and gender diverse Catholics, and his appeal of Bishop Zornoza's act comes from someone who loves the church. In the petition, Salinas said, "This is not the church I know and for this I want to give you [Zornoza] the opportunity to rectify your error."
Salinas is on point because discrimination and exclusion are not marks of the Church of Christ, even if sometimes human-made institutions fail.
In this instance, Bishop Zornoza chose to listen to Catholics' loving voices rather then defend a poor decision. Listening may, indeed, be the key first step for ecclesial inclusion of trans* people to grow.
Catholic leaders could also listen to blogger Anna Magdalena of The Catholic Transgender who writes about gender as a gift we must cherish more fully. She questions why socially-conditioned gender norms are so present in Catholic discussions, writing:
"True gender comes from within, as an inner charism, a God-given impulse toward relationship with others. Too often gender-nonconforming individuals are told 'You need to embrace your God-given maleness/femaleness.' The language of 'the gift' is being used, but it's being misused. A gift is not something that is shoved down people's throats. Gifts enliven, not deaden.

"Gifts are planted within to be shared without. When a gender-nonconforming person tries to share what they experience as their inner gift, how often are they shut down? How often is their gift seen as a curse, or 'not the right gift,' 'not their true gift'? . . .

"Maybe this simple attitude [of accepting everything God offers] is all we need to understand gender non-conforming individuals, whether intersex, transgender, or genderqueer. God has offered us these people, these individuals, this myriad of flavors and expressions. If God is offering, I'm accepting."
Another, more conservative voice is Melinda Selmys who writes at Theologues about experiencing gender dysphoria, though she does not identify as transgender. Selmys points out that too often Christians consider trans* people to be a threat to "traditional marriage and biblical sexuality," which confines their response:
"Trans people constitute a very small minority of the human population, so it's easy for a discourse to develop that is concerned solely with political or philosophical considerations. I'm not going to claim that those aspects of the question aren't important. . .Problems arise, however, when the tradition is discussed without reference to the real human beings involved. . . 

"I'm hoping to help Christians develop a more compassionate attitude towards transpeople. We do need to ask the theological questions, certainly, but these questions cannot take precedence over the immediate suffering of human beings."
Listening to the Catholic parents of trans* children can also greatly inform the church's response, as it has with pastoral care for gay, lesbian, and bisexual people. An article in Buzzfeed reported advice from many parents, including Deacon Ray Dever who said:
". . . [S]ome religious leaders have a 'tendency to exclude people who should be included in the tent. I think they can go back to the gospel, and the conclusion is to love your children first and foremost.' "
Dever wrote a blog post for Bondings 2.0 in December 2014 describing his experience as the father of a transgender daughter.
Another Buzzfeed piece shares the story of Liam Lowery, a trans* man, and his mother, Michele. Their story is similar to many Catholic families with LGBT members who may initially struggle to accept the member's sexual orientation or gender identity, but come around over time. Michele said her initial hesitation to accept Liam's news was motivate by "the misguided belief that people who identified as transgender would be forced into narrow and dangerous lives." You can read their full story here, which includes Michele's participation in Liam's wedding to Marisa–and the unique ceremonial garb they wore for the occasion.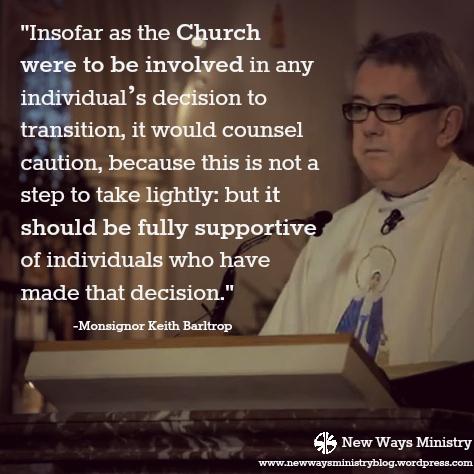 Finally, as we have reported previously, Fr. Keith Barltrop who heads LGBTQI outreach for Cardinal Vincent Nichols of Westminster (London), has said the church should "fully support" someone who decides to transition after careful discernment, adding there was nothing doctrinal about gender identity and that this was a pastoral issue.
Wherever we are on this common ecclesial journey to greater inclusion of and justice for trans* people within the Catholic Church, more listening is always necessary and fruitful.
Listening helps us to build up a church that is "home for all" in Pope Francis' words. We are enabled to jettison the false marks of discrimination and inclusion for a more full embrace of the church's true marks: that we are one Body of Christ, holy because the Spirit is alive among us, catholic where all are welcome, and apostolic in that service and love rule supreme.
–Bob Shine, New Ways Ministry
https://www.newwaysministry.org/wp-content/uploads/2017/09/logo_nwm-1.png
0
0
Robert Shine, Managing Editor
https://www.newwaysministry.org/wp-content/uploads/2017/09/logo_nwm-1.png
Robert Shine, Managing Editor
2015-08-09 01:00:15
2018-07-06 09:36:15
Transgender Catholic Initially Rejected as Godparent Now Welcomed–And Other Positive Developments