Transgender Godparent-To-Be Calls Diocesan Rejection a "Kick in the Stomach"
A transgender Catholic is not allowed to be a godparent, says a Spanish bishop, who further denied any discrimination in the case.
Alex Salinas, 21-year old trans man who describes himself as a "firm believer," sought to be his nephew's godfather. The parish priest involved with the baptism accepted him initially, but reversed the welcome after the diocese became involved in the decision. No other parish in the area would perform the baptism.
Bishop Rafael Zornoza of Cadiz and Ceuta personally endorsed Salinas' rejection and, according to Pink News insisted:
"that the parish priest was 'kind and understanding' in conveying to Mr Salinas that he 'cannot serve as a baptismal sponsor because of canonical requirements that a sponsor live in accordance with the faith.' "
According to  The Local, the priest told Salinas he could "spiritually encourage and help the child in living the faith" and offered him a role as "spiritual godparent" instead. Salinas was outed because church documents proving he is baptized and confirmed identify him as female, of which Salinas said, "in the church's eyes, I was still a woman, even though my documents of identification have changed."
Even while Salinas describes this rejection as a "kick in the stomach," Bishop Zornoza and the diocese deny any discrimination because such acts happen "frequently." The diocese said Salinas does not fulfill the requirements according to the Code of Canon Law, which mandate godparents be:
"…be Catholic, be confirmed, have received the holy sacrament of the Eucharist and, at the same time, live a life congruent with faith and the mission they are assuming."
It is Salinas' gender identity that is, apparently, incongruous with being a good godparent for he fulfills the rest with vigor according to the Huffington Post. But a closer look at Canon Law, alongside church teaching, reveals the diocese's reasoning is faulty.
First, the requirements for a godparent, referred to as "sponsor" are set out in Canon 874 §1 which stipulates among other items the item about living "life of faith in keeping with the function." Salinas fulfills all of the requirements, including leading a "life of faith in keeping with the function." Indeed, children growing up in the church today could benefit greatly from LGBT Catholics who teach all about living as one's authentic self, the path to holiness, and witness what it means to remain faithful to Christ and to the People of God in a church plagued by internal injustices.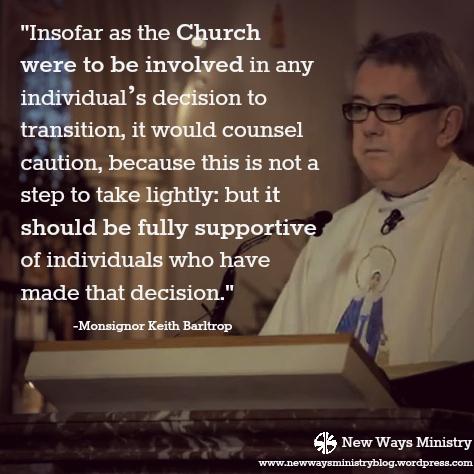 Second, trans and gender diverse identities are not a doctrinal matter, a point recently reiterated by England's top Catholic official for LGBTQI outreach, Msgr. Keith Barltrop. Indeed, he added the church should be "fully supportive" of those who decide, after careful discernment, to transition. The pastoral response to Alex Salinas was anything but supportive or welcoming, stemming from a harmful medley of clerical ignorance and prejudice.  At the very least, the pastoral leadership in this case should give the benefit of any of their doubt to the parents of the child.
Thankfully, Salinas plans to appeal to the discriminatory decision to both church and civil authorities for the injustice committed against him. "Oversight Against LGBTfobia," a Spanish advocacy group, admitted that even if it is not legally discriminated, the exclusion of transgender people from the church's sacramental life is "ethically reprehensible."
Church officials in Rome should pay attention to this case. Pope Francis personally welcomed a trans man and his fiancee to the Vatican, following their rejection at the Spanish church where they were longtime parishioners. A repeat effort, perhaps including a baptism at St. Peter's Basilica, would be a clear sign that Catholic ministers must welcome trans and gender diverse persons into the full life of the church.
The incident should also be a wake-up call for church ministers worldwide to get educated on gender identity topics and not misuse Canon Law or church teachings to harm a very marginalized community.
For those attending the World Meeting of Families, or anyone who wants to come to Philadelphia at the end of September, consider attending New Ways Ministry's half-day workshop on gender diverse families entitled TransForming Love: Exploring Gender Identity from Catholics Perspectives, on Saturday, September 26, 2015, 8:30 a.m. to 1:00 p.m., at St. John the Evangelist Parish Center, 1212 Ludlow Street, Phialdelphia.  For more information, click here.
–Bob Shine, New Ways Ministry
https://www.newwaysministry.org/wp-content/uploads/2017/09/logo_nwm-1.png
0
0
Robert Shine, Managing Editor
https://www.newwaysministry.org/wp-content/uploads/2017/09/logo_nwm-1.png
Robert Shine, Managing Editor
2015-07-30 01:00:59
2018-07-06 09:40:45
Transgender Godparent-To-Be Calls Diocesan Rejection a "Kick in the Stomach"